I can't remember when, but at one point I mentioned to Jenn that I was fascinated by adventures on the open sea. We conversed about it, and she told me about
Kon-Tiki
, the famed book by explorer Thor Heyerdahl. In that book, he builds a raft and then goes on an expedition from South America to the Polynesian Islands. I think I received this book as a gift, and eventually I began to read it.
Somehow, during the reading of Kon-Tiki, an e-mail arrived from John Haslett. "I was wondering if I could induce you to read my new book." His book?
Voyage of the Manteño: The Education of a Modern-Day Expeditioner
.
Both books describe the details of building balsa rafts. Both books describe the arcane politics of setting sail from a foreign land. Both books were about open sea voyages (in the case of Manteño, multiple voyages), and the effort it takes to make a voyage work. In each there are fascinating passages about the ocean which any sea-dreaming
land lubber
like me could enjoy.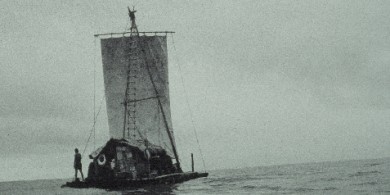 While Kon-Tiki is the more popular of the two, and certainly the more heralded (it was first published in 1950), John Haslett's book comes much closer to telling me what I wanted to know. What does the ocean feel like in a storm? What are your emotions when you're adrift at sea? And what happens when you get pissed at your shipmates? (Both authors had a small crew.)
Voyage of the Manteño
took on these questions and more. John describes the ocean in all its beauty and fury. He describes feelings of elation, anxiety, and abject terror. He describes the emotional fortitude required to be a true explorer. He writes about his shipmates as worthy companions, even though some of them couldn't hack the sea-faring life. His book is ultimately an adventure of great endurance.
When I finished reading it, I felt immense satisfaction that John was still out there, planning his next voyage. I hope he'll write about it.